Cumin Seed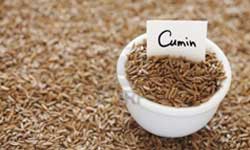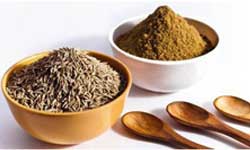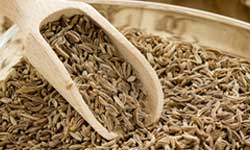 Cumin (Cuminum cyminum) is a flowering plant in the family Apiaceae, native from the east Mediterranean to South Asia. Its seeds (each one contained within a fruit, which is dried) are used in the cuisines of many different cultures, in both whole and ground form. It also has many uses as a traditional medicinal plant.
Uses:
Cumin seed is used as a spice for its distinctive flavour and aroma. It is globally popular and an essential flavouring in many cuisines, particularly South Asian (where it is called jeera), Northern African, and Latin American cuisines. Cumin can be found in some cheeses, such as Leyden cheese, and in some traditional breads from France. It is commonly used in traditional Brazilian cuisine. Cumin can be an ingredient in chili powder (often Tex-Mex or Mexican-style), and is found in achiote blends, adobos, sofrito, garam masala, curry powder, and bahaarat. In Myanmar, cumin is used as a spice. In South Asian cooking, it is often combined with coriander seeds in a powdered mixture called dhana jeera. Cumin can be used ground or as whole seeds. It helps to add an earthy and warming feeling to food, making it a staple in certain stews and soups, as well as spiced gravies such as chili. It is also used as an ingredient in some pickles and pastries.
Fennel Seeds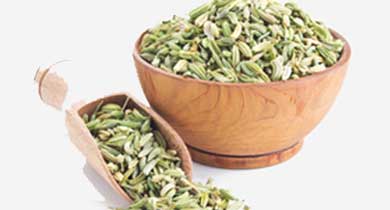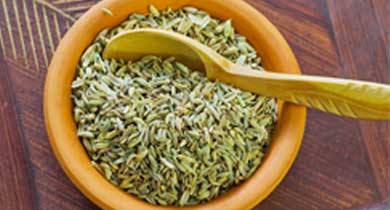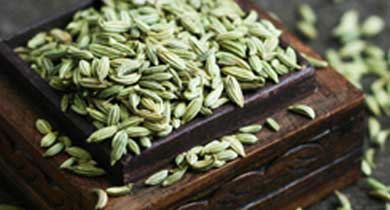 Fennel (Foeniculum vulgare) is a flowering plant species in the carrot family. It is a hardy, perennial herb with yellow flowers and feathery leaves. It is a highly aromatic and flavorful herb with culinary and medicinal uses and, along with the similar-tasting anise, is one of the primary ingredients of absinthe. Florence fennel or finocchio is a selection with a swollen, bulb-like stem base that is used as a vegetable.Fennel is used as a food plant.
Uses:
Medicinal uses:
Fennel has long been used as a remedy for flatulence and indigestion in traditional medicines.
Fennel seed decoction or added as spice in food has been found to increase breast milk secretion in nursing mothers.
Fennel water often is used in newborn babies to relieve colic pain and help aid digestion.
Fennel seed oil is used to relieve coughs, bronchitis and as massage oil to cure joint pains.
Culinary uses:
Fennel seeds exude anise like sweet fruity-aroma when rubbed between fingers. Its herb parts, including tender growing tops, root-bulb, dried stalks, and seeds are used extensively in a wide variety of cuisines all over the world.
In order to keep their fragrance and flavor intact, fennel is generally ground just before preparing dishes or whole seeds are gently toasted under light-heat before using them in a recipe.
Fennel seed is widely used as a savory spice. It is principally added in cooking as a condiment and flavoring base.
Its seeds are widely used in cheese spreads, and vegetable dishes.
In India, its seeds are being used as part of curry powder. In addition, sugarcoated fennel seeds (saunf) have been used as a condiment after food to improve digestion.
As in caraway, fennel seeds are used to flavor breads, dough, cakes, biscuits, and cheese.
Sesame Seeds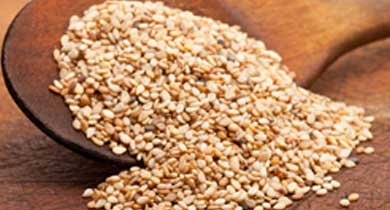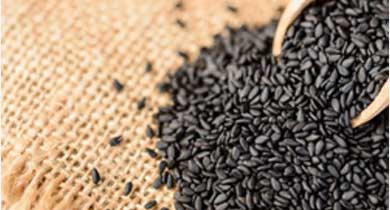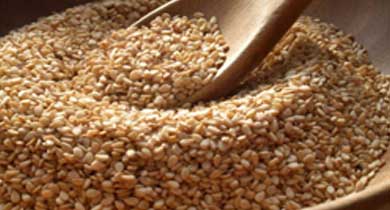 Sesame (Sesamum indicum) is a flowering plant in the genus Sesamum, also called benne. It is widely cultivated for its edible seeds, which grow in pods or "buns". Sesame seed is one of the oldest oilseed crops known, domesticated well over 3000 years ago. Sesame has many species.Sesame has one of the highest oil contents of any seed. With a rich, nutty flavor, it is a common ingredient in cuisines across the world.
DIFFERENT TYPES OF SESAME SEEDS:
Hulled sesame seeds
Unhulled sesame seeds
Black sesame seeds
White sesame seeds.
USES AND BENEFITS:
Sesame seeds are extremely beneficial for health, but are often overlooked, and they include the ability to prevent diabetes, lower blood pressure, prevent a wide variety of cancers, build strong bones, protect against radiation, increase heart health, help cure sleep disorders, improve digestion, reduce inflammation, boost respiratory health, strengthen your oral health, aid in healthy growth, improve circulation, detoxify the body, and eliminate depression and chronic stress.
These seeds can be consumed in the raw or dried form, or even as roasted snacks. They are used as an ingredient in several cuisines.
Dry roasted sesame seeds are ground with olive into a thin, light brown colored paste, known as 'Tahini', which is a popular Middle Eastern dip. In Europe, they are commonly used in the manufacture of margarine.
White sesame seeds have higher iron content and are mostly used as ingredients in food or in the form of oil.
Black sesame seeds are more flavorful and have a stronger aroma and are preferably used in medicines. They contain 60% more calcium than the white ones.
White sesame seeds are hulled, whereas the black and brown ones retain their hulls.